Publications
Books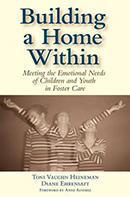 Building a Home Within: Meeting the Emotional Needs of Children and Youth in Foster Care
All children need stable, lasting relationships with caring adults to ensure their healthy emotional, cognitive, and social development. But for children and adolescents in foster care, these essential relationships are often absent. This book presents a proven solution based on over 10 years of groundbreaking work by the Children's Psychotherapy Project (CPP): When young people work with the same therapist for as long as they need to, they'll make better progress toward developing strong, healthy relationships and hope for the future.
Buy Now
---
Supervision With Marian Tolpin: The Total Transference
The following case illustrates the conceptual framework Marian Tolpin used with me in a 2½-year supervision—namely, the distinct transferences of pathology and remaining health. Taken together, Marian Tolpin called these the total transference. I came to see that these two dimensions of the transference were often intertwined. It was important to be cognizant when I was responding to one dimension or both in the interpretation. This case shows how Tolpin's conceptual framework not only can help to heal psychopathology, but also can foster the development of psychological capacities and resources.
Buy Now
---
Articles
Helping Children Cope With Death - By Dr. Thetis Cromie.
Chicago Tribune - July 25, 1996
Click To Read Article
"Jane Addams and the 'Devil Baby Tales': The Usefulness of Perplexity in 'Sympathetic Understanding', A Tool in Learning Empathy"
Journal of the American Psychoanalytic Association, Vol. 63, No.1, February 2015
Click To Read Article